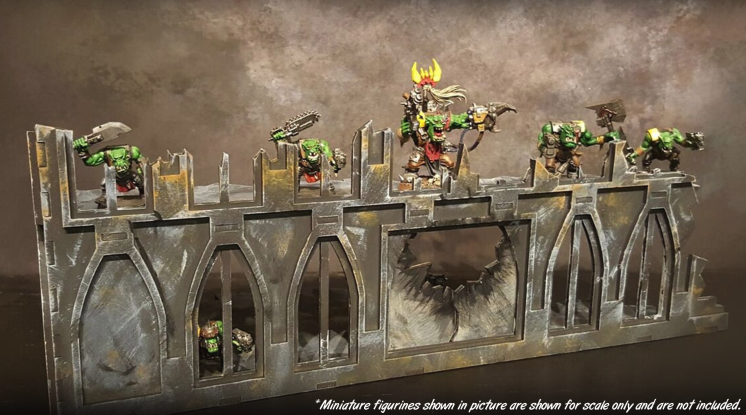 The Battle Report of Scarred City and the perfect setting for your tabletop battles of the future.
This battle ruins building measures 360mm x 140mm (Approx 14 inches x 5.5 inches) at the base and 130mm (Approx 5 inches) in height.
You can deploy your troops inside the building on the ground floor level, as well as the second level as seen in your pictures.  Three different sets of hatch doors are included, as well as two ladders!
The building is made from 3mm MDF wood fiber board, is unassembled and can be painted to your liking.
Kit Dimension:
Width: 360mm (Approx. 14 inches)
Length: 140mm (Approx. 5.5 inches)
Height: 130mm (Approx. 5 inches)
Assembly Instructions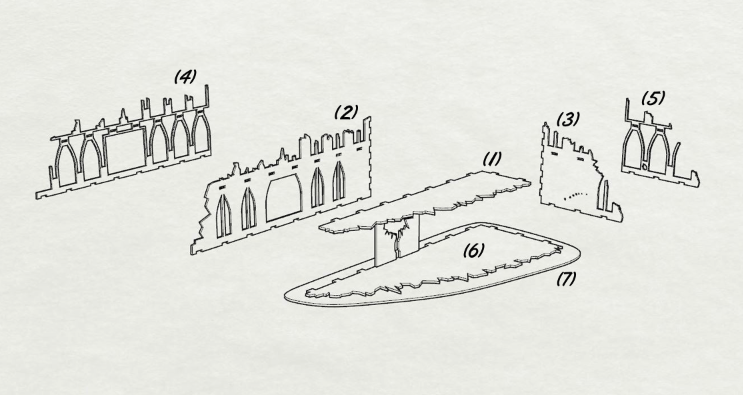 Insert the top floor piece (1) into the left inner wall of building (2).  Do not attach the bottom floor piece yet.
Next, attach the floor and wall (1,2) into the right inner wall (3).  Do not attach the bottom floor piece yet.
Next, attach the left and right outer wall pieces (4,5) to the left/right inner walls (2,3).
Next, attach the bottom floor piece (6) to the structure.(Optional: You can also attach the building to the included base piece (7) or use another base if you prefer.)
Next, attach one of the optional sets of door pieces and ladders in a location you prefer.
Store Product Links
---